About me
Hello and welcome
You've arrived at a site of art and reflections, centred around a love for landscapes.
Take the opportunity to pause, and connect, through art, with beauty, stillness, landscapes, and people.  Take the time to nourish your soul.
About me
I'm an artist and lawyer (and climber) based out of Bondi Beach, Sydney.  Early exposure to the Australian landscape underpins much of my art.  In the 70's, 80's, and early 90's, I spent a lot of time hanging out on cliffs and being in the mountains, camping, running, climbing, walking, and skiing.  I still get out when I can.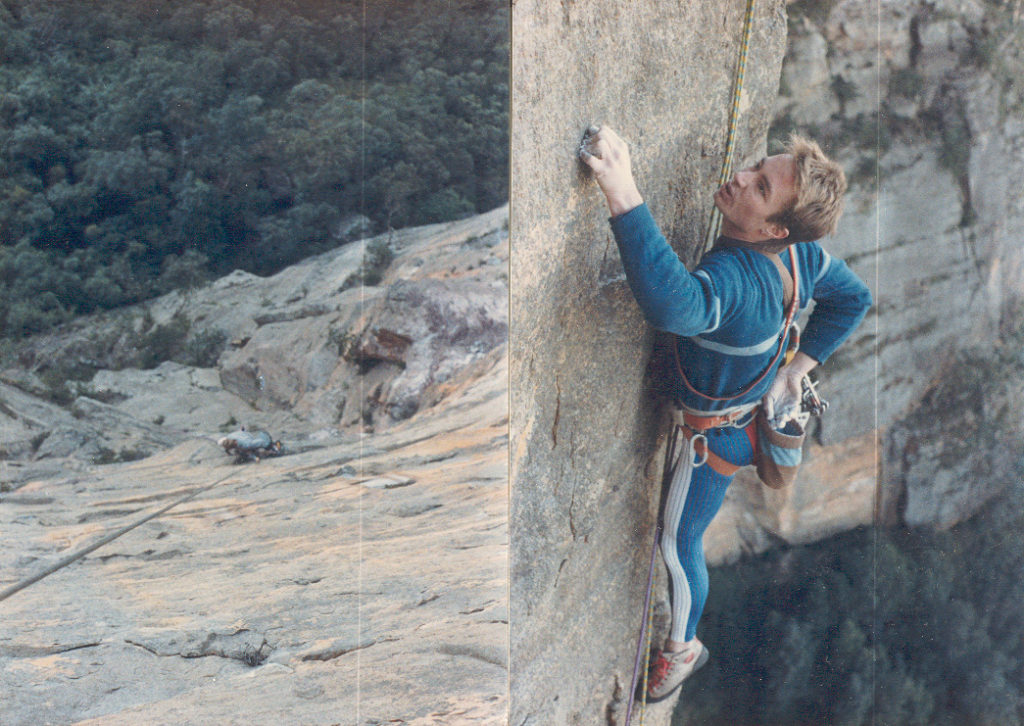 Warwick Baird on the first ascent, Alive in a bitter sea (25), Blue Mountains, 1986.
I trained as a painter and photographer at the National Art School, Sydney, Australia, graduating with a Bachelor of Fine Art degree in 2004.
Prior to my art studies I studied Political Economics, Government, and Law.  I have a Bachelor of Arts degree and a Bachelor of Laws degree from Sydney University, and a Master of Laws from the University of New South Wales.  My post-graduate legal studies focused on negotiation, international environmental and economic law, and media, information technology, and communications law.
Art
In my art I explore the interplay between the natural environment, specifically the National Park estate of Australia, human presence, memory, and the dreaming mind.  My art practice encompasses drawing, painting, photography, and documentary video.
Legal services
The legal consulting services I offer include legal representation, legal advice, policy analysis, strategy development, and negotiation.  I have broad experience, including in the areas of Indigenous land rights, culture and heritage protection, human rights, climate change, criminal, and international law, as well as copyright, arts, media, information technology, communications, and commercial law.
Flooded Dreams
In 1997 some friends and I made a documentary, Flooded Dreams, about a dispute over a large Indigenous burial site at Lake Victoria in the far south west of New South Wales.  Much of what I believe and hold dear underpins Flooded Dreams – a love of landscapes and the Australian bush, the power of aesthetics and beauty, a belief in the need for tolerance and respect in times of conflict, the importance of resisting abuses of power, and the importance of land and the natural world to human culture and the nourishment of the soul.
The messages in the documentary are increasingly important in these times when lies, deceit, lack of compassion, division, and hatred are being propagated.  I hope you enjoy watching Flooded Dreams.
Thanks for visiting my site.  I trust you enjoy the art and reflections, and leave feeling better for having stayed for a while.
Archival quality prints of my drawings and paintings may be ordered by contacting me by email or mobile phone.  A select number of my paintings and drawings are also available for purchase.
I welcome enquiries about how I may be able to assist you to solve your legal, negotiation, and strategy concerns.
Warwick
Flooded Dreams
---
March 9, 2013